" Put simply...IT WORKS "
I'm not a bad sleeper per se, but have a habit of waking up frequently, and I bought this product to see if it had an impact on my waking up. It is difficult to fully describe the impact, but put simply… IT WORKS. The Deep Sleep option for 8 hours is a revelation and SleepHub has now exposed just how poor my sleep cycles actually were. Many thanks to all the team at SleepHub.
Alex, Business leader
" Key impact on my recovery "
I've been using SleepHub for 2 months and I've seen a key impact on my recovery as I look to get back from an injury. My energy is better and I can really attack my day. It's really helping me to implement my sleep routine, which has been fantastic for me so far. I've had more energy in the mornings, I've probably felt I can eat better and improve my diet which is an added benefit and it's meant I can go about my day to day business in a really positive way.
Will Addison, Professional rugby player
" Our energy levels have increased "
As someone who habitually wakes early, alongside a variable and disruptive work schedule, I have struggled to get enough sleep. The SleepHub has enabled me to sleep later than I have done in years. I'm amazed to sleep as late as the kids! Both my wife and I have seen a big improvement in the quality of our sleep, consistently getting more deep sleep every night than we used to. We've seen our energy levels increase since using SleepHub and can't recommend it highly enough!
Ben, Airline Pilot
" I've felt energised "
I've felt energised after using the Sleephub for 4 weeks, my energy levels improved and I'm able to get up more easily in the mornings. Emotionally I feel more levelled throughout the day and able to rationalise situations much better. I found the sound did take a little time to get used to, however it didn't take long to adjust and quickly became part of my bed time routine. I think the Sleephub has benefited my sleep and recovery and I'd recommend it to anyone looking to improve their sleep and ultimately their physical wellbeing.
James Rodwell, Professional rugby 7's player & coach
" Asleep very quickly "
I have always struggled to switch off at night and regularly spend hours trying to fall asleep. I have been using the Sleep Hub for a few weeks and now fall asleep very quickly. The sound produced by the Sleep Hub is subtle and after a minute or so I don't even notice it. I wake up feeling refreshed and ready for the day. As an added bonus, using Bluetooth you can use it as a HiFi during the day, the speakers are really good quality!
Chris, Lawyer
"With increasingly demanding lifestyles and everyday worries, the brain can gradually fall out of sync with natural sleep cycles. By understanding the science behind a good night's sleep, we have been able to develop a product that helps the brain return to those natural sleep cycles and improve health and wellbeing."
Dr Julian Stone, CEO, Cambridge Sleep Sciences
Revolutionary approach to sleep science
You've likely tried white-noise sound machines and apps. SleepHub® is neither of these.
SleepHub® is the culmination of 10+ years of scientific research and development by a UK-based collective of doctors and scientists - Cambridge Sleep Sciences Ltd. SleepHub® is a unique device using SleepEngineTM technology, which reproduces natural brain waves. This revolutionary approach helps to retrain your brain and restore natural sleep patterns.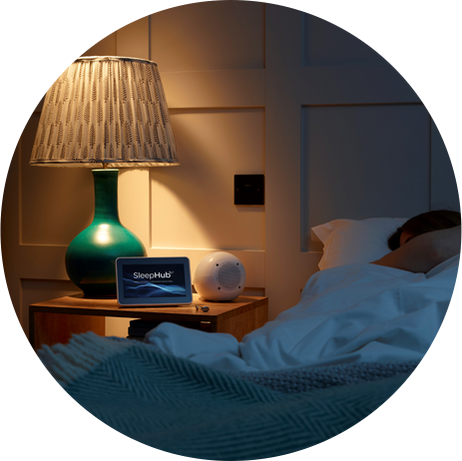 Key features of SleepHub®
Backed by 10+ years of research and development
Uses SleepEngineTM technology to retrain the brain to restore natural sleep patterns
Helps to fix sleep issues, not mask them
4 sleep modes to achieve optimal sleep
Bluetooth-enabled